The HIGH Cost Of Waiting To Buy
On the fence about Buying or Leasing another Year?
Here's the situation: Your lease expires this summer, you've been looking at homes online, and nothing is really perfect. Your choice, try and find something now, and maybe settle a bit for less than perfect, or save some more money and buy next year this time. Maybe the Sellers market will not be so bad... Sounds logical, but let's break that down and look at each part in detail.

Interest Rates- the overwhelming consensus is interest rates are going up
How far and how fast is the question ... here is a breakdown from various experts. Some are above 5% at year end, still low by historical standards, but it makes homes less affordable as we'll see.
Buying a $300,00 Home
Now lets look at the impact of rising mortgage costs, and appreciation. I'll use two examples. A first home buyer is considering a home in the low 300's this spring. She has an estimated mortgage of $300,000, Charlotte's appreciation last year was 5.4%, the chart below adds 4%
So, a rise of $226 /month means you have to earn an additional $775/mo, $9300/per year to qualify and buy the same house.
Overall, you had to pay $12,000 more for the house plus, 12 months of rent, assuming $1800 x 12 = $21,600... That looks like $33,000.
By the way, Dilworth, Midwood, Sedgefield- these markets are going up ar 5-7% per year.
Buying a $700,000 Home
So a $529 per month increase, you will need to earn an additional $1600/mo, $20,000 a year to qualify, to buy the same house.
If the area appreciates at the same 4%, then you'll pay $29,400 more for the house, and 2000 /mo in rent x 12 = 24,000, for a total $53,400. and an extra $529/mo as long as you have this loan. Ouch!
This is our reality, the time to get off the fence is now!
As for a let up in the Seller's Market, at least here in Charlotte, I see that continuing long into the future along the light rail line neighborhoods of Charlotte. We are at the beginning of an upward curve in home prices, and land is now about $1M an acre... so, a Seller market at ever higher prices will continue. It may be different in the suburbs, but I wouldn't bet on it.
I'll leave the conclusion up to you, but there is truly a HIGH cost of waiting just a year.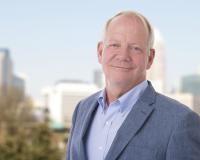 Author:
Terry McDonald
Phone:
704-390-6221
Dated:
May 8th 2018
Views:
948
About Terry: My Relocation Story I came to Charlotte, from Hoboken, NJ, just outside the NYC area with a wife ...