I know, just the thought of it makes you sweat. With your house on the market, you're so wrapped up in finding a buyer and making sure the house is always clean, you'd like to blissfully put off the last step of this whole process.
Problem is, if you concoct last-ditch plans for how to make moving easier, you could end up spending hundreds (or even thousands!) of dollars to hire out all that work. Do you really want drop serious cash from your hard earned home sale profits on that? Not when you can keep more of your money with thoughtful planning.
"The packing process has to begin before your house is ready to be shown," says the author, Terry McDonald, a top real estate agent in Arlington Heights who sells homes over 30% faster than average agents in our area.
Begin by collecting the essentials that will launch you into productivity. If you forget (or run out) of anything you need, you'll have to drop what you're doing and spend precious hours in transit. So, we put together this list to make moving easier on your back and sanity with just one run to the hardware store.
Time to get organized. That's where it starts!

Your hardware store shopping list to make any move easier
Grab a coffee and a cart—here's what you'll need from your hardware store run for a smooth move.
1. Storage for important documents
Before you throw everything into boxes, you need an easy way to keep track of all of your critical documents, receipts, and personal records in one safe place.
Grab a binder, heavy duty folder, or small storage container for any files or paperwork that you can't afford to lose in the move.
Here are some examples of items you should organize into your handy dandy record keeper:
Home sale documents

Tax forms

Receipts for home maintenance costs

Passports

Birth, marriage, death certificates

Social security information

Health records

Veterinary records

Kids' school records
Put anything that's irreplaceable (or will cause loads of stress if lost) into your new document storage system. Then put that binder or folder into a locked compartment or at least tuck it away somewhere safe.
2. The essentials for packing up household items: boxes, packing tape, bubble wrap and more
Stock up on all of your moving essentials. If you're packing up a whole house, it's better to have extra packing materials than not enough. Way Better. Once you get into the steady rhythm of packing, you won't want to stop to go buy more boxes.
The manager at Robert's Hardware, a locally-loved hardware store that's been serving San Francisco's famous Haight Street since 1931, says they do quite a bit of business with people who are moving.
"They'll come in and get boxes and packing tape. We also provide bubble wrap, dish foam to protect your dishes, and tape-dispensing guns," he says.
Here's a list of household packing essentials that you don't want to forget at the hardware store:
Heavy duty boxes in various sizes

Packing tape-dispensing gun(s) -one for each person that's packing

Bubble wrap or packing paper for fragile items

Dish foam for dishes

Markers to label each box

3. For Local Moves, Consider a POD
I have science here! A couple moves ago I discovered PODS. Moving in to a 2600 sf home, I used a traditional mover, and paid $5500. ( We had a lot of stuff!) We packed the boxes, they picked up and delivered. We unpacked. Leaving, I rented a POD, put it in our driveway, and over the course of 2 weeks, we filled it. I had the traditional movers come and take the big stuff. Their cost? $1800 POD cost about $900. Yes we were able to use the POD to help us thin down too. Still, it was half price. Not bad at all.
4. Tie downs and ratchet straps for your car or truck
Whether you're using your own car or renting a moving truck, you'll need strong straps to protect your things between point A and point B.
Grab a 100 foot line of ¼ inch nylon rope to tie furniture and boxes down so they don't get damaged during the move. Get some ratchet straps with hooks on the ends to secure items to internal walls of a moving truck.
5. A hand truck or dolly for heavy items- Your Best Friend!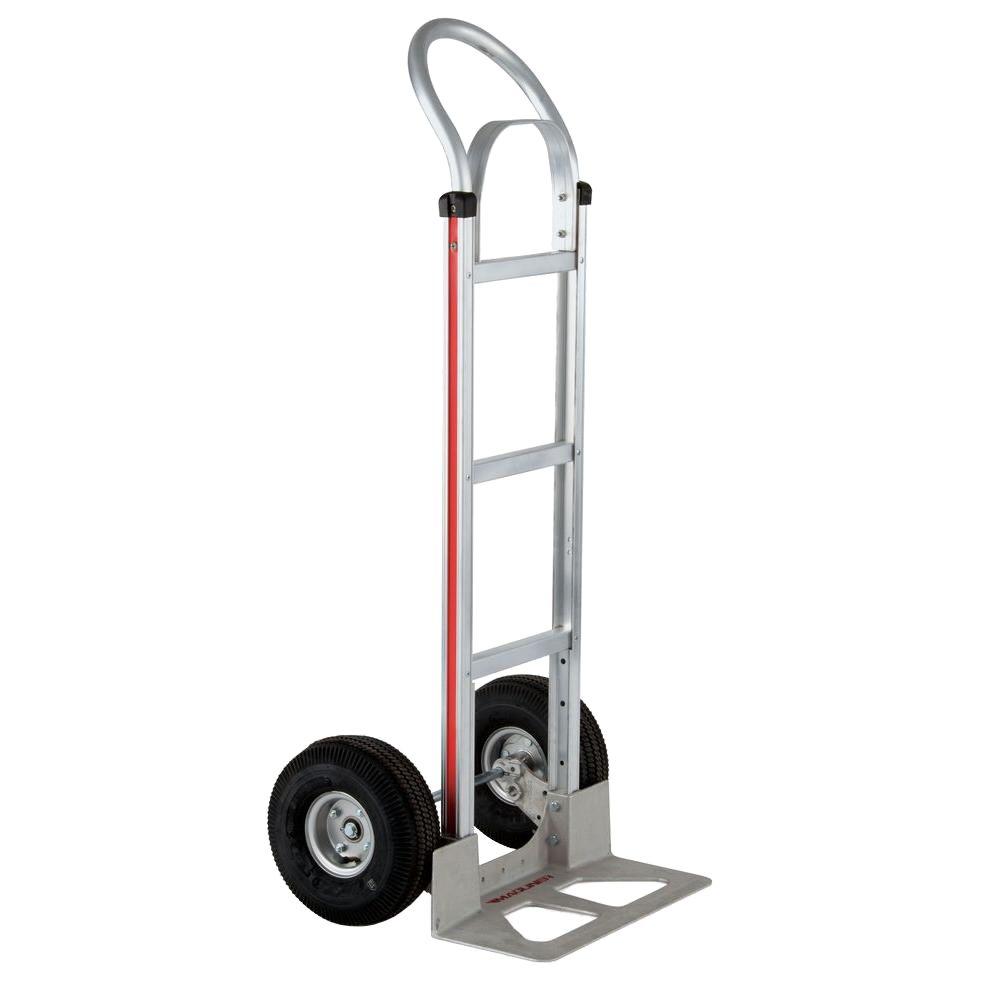 For that massive wall-unit that weighs a ton or the box of old ethics textbooks you can't bring yourself to get rid of, a hand truck is your saving grace. Save time (and your lower back) with wheels that do the work for you.
Hand trucks typically start about $100.
Call your local hardware store to see if they sell or rent hand trucks.
If they don't, make your one-stop moving haul at at HomeDepot or U-Haul to rent a dolly for discounted, one-time use. If your house has a lot of stairs, ask for motorized dolly that'll handle the weight up and down the stairs.
6. Consider a portable ramp or plywood to move heavy items down steps
Imagine your defeat as you wheel your dresser to the front door only to remember those pesky front steps! Luckily, you can buy (or rent) a portable ramp to lay over your steps.
Renting a loading ramp for the duration of your move at your local hardware store or HomeDepot may make sense.
The cost of rental ramps varies, depending on the size of the ramp and how long you'll need it for. If you're feeling really crafty, you can build your own moving ramp with some plywood from your hardware store.
7. Furniture covers, sliders, and straps for protection
Keep your furniture, walls, and floors free of dings and scratches.
Buy or have the truck rental, or mover to provide with truck) to cover furniture and protect it from getting scratched, ripped, or dirty throughout the move.
I love furniture sliders. If you haven't used them, this is the best $10 you'll spend. easily move sofas, book cases and ohter furniture across carpet or hardwood floors. That way you don't hurt your back or scratch up the floors.
Don't forget straps or belts to hold the furniture in place while you move it. Your local hardware store should stock these items to help with your move.

8. Portable speaker for music (my JBL pictured)
OK, this isn't a necessity to make moving easier… but it does make moving fun!
Get a portable speaker to move with you as you go.
Turn up your favorite tunes to keep the energy high as you pack up your house, and keep it on while you bring items back and forth to make moving a little less painful.
9. Car charger
DO THIS FIRST. With everything packed away, it'll be a pain in the neck to find your phone charger.
Grab a car charger and your regular charger and put in your car first! Make sure your phone is charged and ready to guide you to where you need to go.

Make moving easier on your back, mind, and wallet
The average American moves 11 times in their life, according to data collected by the U.S. Census Bureau, and each move involves a lot of stress, pain, and exhaustion. The cost of moving adds up quickly, too.
As top agent Holly Connors says, the most important thing is to be organized and prepared. If you choose to move yourself, you need to make sure you have with everything you need, to make it easier on your back, your mind, and your wallet.
Jot down this complete list to get everything you need to make moving easier in one trip to the hardware store.
Storage for important documents: a folder, binder or container

Packing essentials: boxes, packing tape, bubble wrap, and markers

Vacuum seal bags

Hand truck or dolly

A portable ramp or materials to build one

Furniture covers, sliders, and straps

Portable speaker

Car charger, regular charger

Related Posts
Buying a Home Can Be Scary... Until You Know the Facts
October Market Report- Charlotte Home Values
Powerful Charlotte Home Searches